Style Guide: Contemporary Bathrooms
Contemporary Bathrooms
Less is so much more
Look around, there's sensory overload; sights, smells, sounds. Not in your home though. Here, Less is so much more. In fact, what's not there is as telling as what is! It is simple line and form and a deep appreciation of the very latest in man's design endeavours that makes this style supremely live-able.
Getting the Most Out of Your Contemporary Bathroom
The first few months of the year is a great time to think about tackling a home renovation. If the scope of the project seems a little bit bigger than you imagined, you may want to break it up into smaller chunks, starting with the bathroom first. If yours is starting to look more dated than vintage, it's high time to bring it into the 21st century this year. A contemporary style bathroom may well be the first option that pops into your head, with good reason, considering they have been a popular choice for ages. This guide will tell you everything you need to know about going this route.
Contemporary Style Bathroom Features
The golden rule for contemporary style bathrooms is that less is always more. The space should be up-to-date, elegant and projecting a forward-thinking design approach. We're talking clean tiles, geometric patterns, hard angles and flowy curves. In contrast to traditional designs, a contemporary space looks like it belongs in the era we're in, perhaps even being ahead of its time depending on the design decisions you make. Clean, organised and highly distinctive, these bathrooms add a touch of sophistication to any home space, which may even spread to other rooms in the house too.
Tried and Tested Ideas to Explore
Contemporary style bathrooms are defined by their eclectic patterns and shapes. An easy DIY idea is to arrange geometric shaped mirrors on the bathroom wall as a start. Hanging up framed prints (especially those that add to the aesthetic we mentioned earlier) can also transform the space without you having to do all too much. Concrete and wood elements are essential to getting this design style right. This counts for any surface in the room, as well as the surrounding cabinets or cupboards to round off the space.
Enhance Creativity with Colour Use
Although a lot of designers like to promote using white as the predominant colour in modern bathrooms, this doesn't necessarily always have to be the case. Sure, working it in to balance out the space is important, but there is no rule against pairing up matching colours alongside the pristine finishes that this design style is best known for. Add colour into windows, towels, the wallpaper or even the geometric art on the wall. Minimalism is important in contemporary design, but with the right colour balance the space can easily come to life in no time at all.
Getting the Most Out of Your Contemporary Bathroom
At Bella Bathrooms, we're committed to helping you maximise your bathroom space no matter what style you end up going with. If you're keen to learn more about contemporary style bathrooms, check out our brand new category page for specific products that will help get your creative juices flowing. This specific style is great for reducing clutter and emphasising clean lines and surfaces. If you're finding yourself getting stuck in terms of the specifics (like which cabinets to choose, whether a freestanding tub is best, and so forth), get in touch with us to help make the process easier.
---
SHOP THE LOOK
Contemporary Bathrooms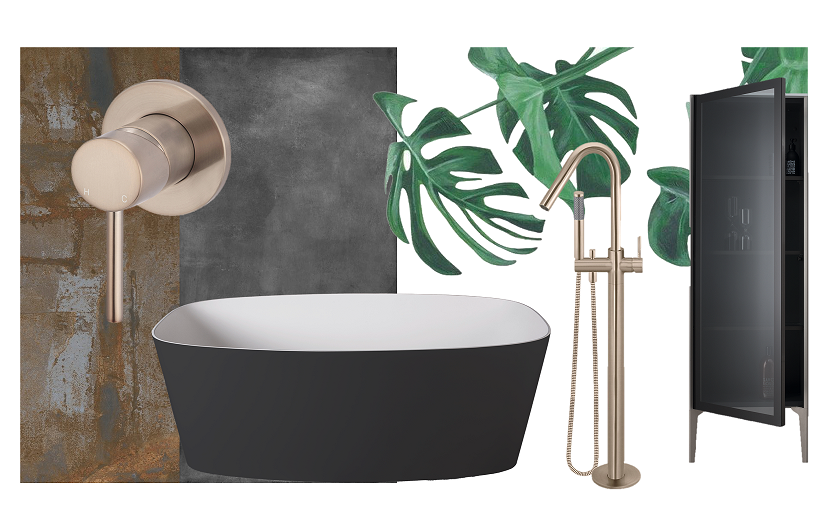 +
Round Wall Mixer - Champagne (MW03-FIN-CH) Excluding the concealed part (MW13BDY)
+
Round Freestanding Bath Mixer with Hand Spray - Champagne
---
Contemporary checklist
BATHROOMS
✔

Stick to a dual colour palette and select up to three different tiles that work in harmony

✔

Run your tiles to the ceiling

✔

If your room doesn't have much natural light, choose tiles from a light palette. If it's well lit, go dark

✔

Use freestanding baths and wall hung toilets

✔

Choose modern tapware in brushed nickel, chrome, champagne or matt black
MAIN FLOOR TILE
✔

Select simple finishes like large concrete or wood look tiles
KITCHENS
✔

Keep lines clean with smooth edges

✔

Be bold and dramatic with tile and marbled feature walls and splashbacks

✔

Keep countertops clear and highlight with impressive feature tap
FINISHING TOUCHES
✔

Select simple, big and bold furniture

✔

Large indoor plants give dramatic impact
---
Related Products
---