Style Guide: Country Chic Bathrooms (In progress)
Country Chic Bathrooms: Our Quick Style Guide
Cosy, comfortable, warm and charming
Who doesn't need a bit of the countryside energy in their humble abode in the city? Adding design elements into your house that are reminiscent of a slower paced life (away from the hustle and bustle) can make it easier to relax, and offer a welcoming environment after even the hardest of workdays. The same idea applies when it comes to your bathroom space too. Country Chic bathrooms are excellent at reproducing the idea of a simpler way of life, along with charm and sophistication. This quick style guide tells you what to focus on when designing this type of space.
< What is a Country Chic Bathroom?
Country Chic design sets out to create cosy, comfortable, inviting, and warm spaces. Although country-style bathrooms traditionally opt for darker walls, this specific style is more likely to incorporate white walls with complimentary basins and a bathtub. Wood accents are crucial to rounding off this type of space, which can never do with enough wicker baskets for storage or decorative purposes. Old school in approach, this style introduces vintage furniture and timeless accessories into the bathroom in a bid to create the perfect balance between country and chic.
The most important consideration when it comes to designing a Country Chic bathroom is that it must be a carefully curated space that can double up as a retreat at the end of a long day. This means scaling back on the primary features of a full-blown country styled bathroom (think Southern Belle stereotypes in Hollywood movies), adding special, often sentimental touches into the design instead. There's a fine line between shabby chic and actual chic, and although a rustic design matches this bathroom style, there is an element of refinement that should always come into play.
A Source of Added Inspiration
If you've got your eyes on creating a Country Chic bathroom at home this year, you've now got everything you need to start planning the process. That said, there's no such thing as too much inspiration when it comes to a home build, which is why the Bella Bathroom style guides can come in handy during the process too. By working through these you may discover specific elements to include in your new space, while guaranteeing that you can come home to the bathroom you truly deserve.
---
---
SHOP THE LOOK
Country Chic Bathrooms
---
A Wet Area Checklist to Work With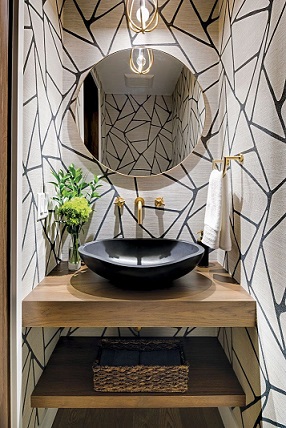 A Wet Area Checklist for Final Touches
✔

Country chic bathrooms often contain valuable objects, so take care to waterproof any family heirlooms or sentimental display objects.

✔

The right balance of accessories is essential: do a run through at the end of the design process to avoid going slightly overboard in this regard.

✔

These types of bathrooms don't usually have a lot of greenery, but feel free to add in some fake flowers to contrast the white walls and appliances.

✔

Rainwater showerheads are great at complimenting the countryside feel of the space, while adding a slightly modern twist that won't go unnoticed by your visitors.
Related Products
---