Style Guide: Scandinavian Bathrooms (In Progress)
Scandinavian Bathrooms: :
Our Quick Style Guide
Scandinavians are known all over the world for being gentle natured, with a highly practical outlook on life. The same traits can be referenced for bathrooms designed in the Scandinavian style, albeit with some other notable characteristics that can't be overlooked. If you're after a somewhat out-of-the-box design idea for your upcoming renovation, this is one of the styles that should be on your shortlist right from the get-go. Let's dive into Scandinavian style bathrooms together, for you to tick all the boxes before starting the process of transforming the space.
What is a Scandinavian Style Bathroom?
Scandinavian bathrooms are best described as functional with many natural elements, often presented in a largely understated way. These bathrooms are not flashy in any sense, although they tend to incorporate breath taking modern fittings and features. From wood to stone, right through to greenery and trinkets, this type of bathroom is meant to add a feeling of homeliness to a room without compromising on sophistication. Tiles are common features in Scandinavian bathrooms, offering an opportunity for creative expression and exploring different options before finding the perfect fit.
Neutral, Natural Colours
Scandinavian bathrooms bank on as many neutral, natural colours as possible. White, off-white, tan, light grey, and beige are regular features in these types of bathrooms, while black and white combos are strategically used to add a touch of flair to areas that feel more clinical than others. In terms of decor choices, the most popular colours people tend to include are black and grey, with a pop of brightness in the form of a vase full of flowers or one or two tiny succulents. Less is more, in terms of accessories, to maintain a serene feel in the space. .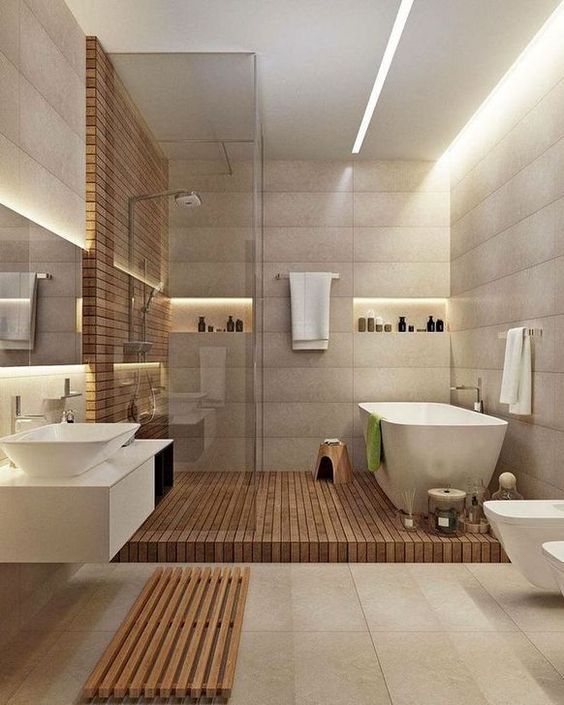 Bring Scandinavian-Like Serenity into Your Home
At Bella Bathrooms, we're always happy when a completed bathroom space puts a smile on a client's face. Scandinavian-like serenity should always be the order of the day after a difficult work week. With our help, it can be a reality sooner than you think. From floor to wall tiles, to bathroom fittings and everything else you might need, we've got you covered when it comes to your next bathroom renovation project. Chat to our team about the best way to go about doing so or ask us about some of the other designs that might make your dreams come true.
---
SHOP THE LOOK
+
Round Freestanding Bath Mixer with Hand Spray - Matte Black
+
D-Neo Wall-Mounted Toilet White Rimless
+
Round Kitchen Mixer Tap - Matte Black
+
Tangent Electric Ladder 520x1890 -Black
+
Deep Frame Circular Mirror Matt Black
+
Happy D.2 Vanity unit wall-mounted
---
Scandinavian
A Wet Area Checklist: Rounding Off the Space
✔

Introduce a combination of natural wood and simple ceramic tiles into the space, as this will help to replicate the ambience found in a Nordic spa.

✔

Skip the brass fittings, opting for stainless steel instead, in keeping with the modern feel often associated with Scandinavian bathrooms.

✔

✔

Pebbled shower flooring tends to be overused in this bathroom style, so explore your options based on the overall space first before making a final decision on the best way to go.
---
Related Products
---