How to Paint Porcelain and Ceramic Tiles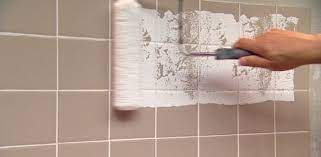 There's never a bad time to take on a new creative project. It can be the perfect escape from the hustle and bustle of daily life, a way to regroup after a week on the grind, and it offers an instant mental health boost too. If your kitchen, bathroom or outdoor tiles are starting to look a bit run down, you don't necessarily have to invest in new ones and start a big DIY project. You may be able to paint the tiles to elevate them, freshening up the space and creating a talking point for the next time you host friends and family for dinner. So how do you go about painting tiles, particularly two of the most common types, namely porcelain and ceramic? 
Getting Started: Is Painting Tiles a Good Idea?
You might be wondering whether painting tiles is a good idea to begin with, especially as it's not that common for people to do it. This is mostly due to time constraints and the busy nature of the modern world, over and above being because people don't technically want to do it. Porcelain tiles are relatively uncomplicated to paint. Ceramic tiles can be painted, but it isn't recommended to do so unless they have been thoroughly cleaned and are 100% dry. This includes sanding them down and washing them with pumice to roughen the surface. 
How To Paint Porcelain Tiles
Porcelain is a type of ceramic, but is separated from its ceramic counterpart thanks to a difference in water absorption levels. Durable to a tee and often with a glazed finish, you might want to invest in acrylic latex paint to mimic the new look and feel you're going for. It's possible to paint any part of the tile, but it's best to focus on spots that have less wear-and-tear, and especially those that have less exposure to moisture than others. Scrub, sand and dry the tile before picking up a paintbrush. Two coats are essential, and make sure it is fully cured before moving on to other tiles. 
Refurbishing Ceramic Tiles
Most ceramic tiles are easy enough to paint, unless they have been worn down over the years to the extent that they are damaged, chipped or cracked. Repair any damage using epoxy if you need to, and it's worth Googling what the manufacturer says about painting their tiles before embarking on a big project. Before painting, it's essential to prepare the tiles first. Clean, sand and remove any excess dust to start. Latex or epoxy paint will do the trick, and always allow the primer to dry first. Two topcoats of acrylic paint will give it the tile that polished look you everybody is after. 
For All Your Tiling Needs
If you have any questions about the process, the Bella Bathrooms is right here to answer them for you. For the tiles that can't be repainted, you're better off looking at a couple of new options to give consistency to the room or area you're drying to inject a new dose of creative life into. Your imagination will be running wild as soon as you explore some of the options in our catalogue, and before you know it, you and your loved ones will be enjoying a brand new space.