Retro/Vintage Style Bathrooms: Our Quick Guide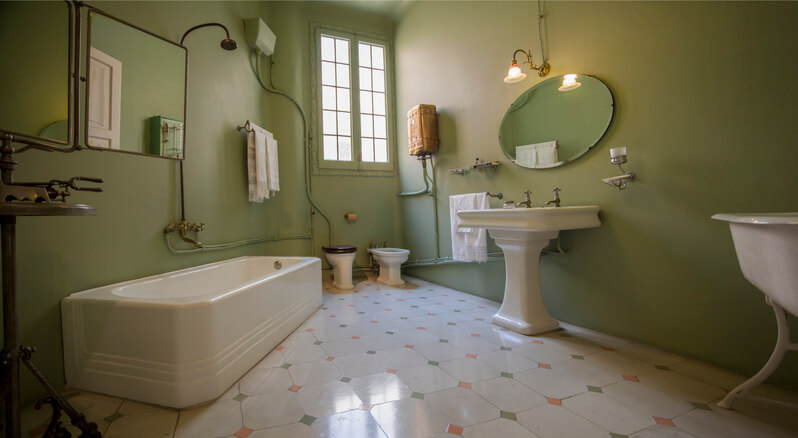 For a modern take on old school themes, a retro or vintage style bathroom truly ticks all the boxes. Whether you're keen to bring an element of nostalgia into your modern-day bathroom, or you're moving into your own space for the first time and simply have an obsession with timeless design aesthetics, this style is guaranteed to bring more joy into your home. So what are the primary characteristics of this design style, and why does a classic look bathroom still make its way into so many homes around the world? This guide will touch on all of this, and more. 
What Defines Retro/Vintage Bathrooms?
Retro or vintage style bathrooms are all about the old-school plumbing fixtures, patterned tiles that look like they could be in the earliest TV shows, as well as colour schemes that are made to evoke emotion and a sense of nostalgia as soon as anybody enters the space. The idea is for the space to be as timeless as possible, while paying homage to an era you or your loved ones might be slightly obsessed with. Contrary to contemporary design, less isn't more here, which can lead to a space that feels slightly cosier (but should never be too cluttered as a result). 
Going for the Classic Look
This type of bathroom style is renowned for bringing a more classic look to the forefront of the home space. A freestanding bathtub is perfect for this type of bathroom. Simple colours add a touch of class and elegance to the room in a way that doesn't feel or look too forced. Getting the design right requires incorporating vintage cabinets and retro fixtures to get the feel 100% correct. It's also important to balance the objects out. Overdoing it might lead to a completely different (possibly even unwanted) end result. 
A Personalised Retro Rebuild
Over and above getting the primary features of the space correct, a retro or vintage style bathroom has to be equipped with the right accessories too. Buying these in sweet pink or white is a good place to start. Choosing the era you'd like to emulate can be a big help too. Finding the right pieces might mean watching some films from that time, or spending some time researching ideas on the internet. If you were alive during the era you're trying to recreate, take some time to write down some of your favourite memories and the spaces they took place in. From there, the sky is truly the limit when it comes to creating a unique, special space for yourself. 
Help with Designing a Timeless Bathroom
If your renovation project starts to feel a little bit overwhelming, or you're getting stuck on making a decision about some of the fittings or accessories to get the balance right, the Bella Bathrooms is happy to be a support system for you. Our team has decades of experience in giving customers their dream bathrooms without putting them out of pocket. We've even gone so far as to create a unique category page for retro/vintage bathrooms to get you out of the rut first. Reach out to us with any of your questions, and we'll be happy to get you back on track for a finishing product you can be proud of.