At-Home Dog Grooming Made Easy: The Hansgrohe Dog Bath Shower Head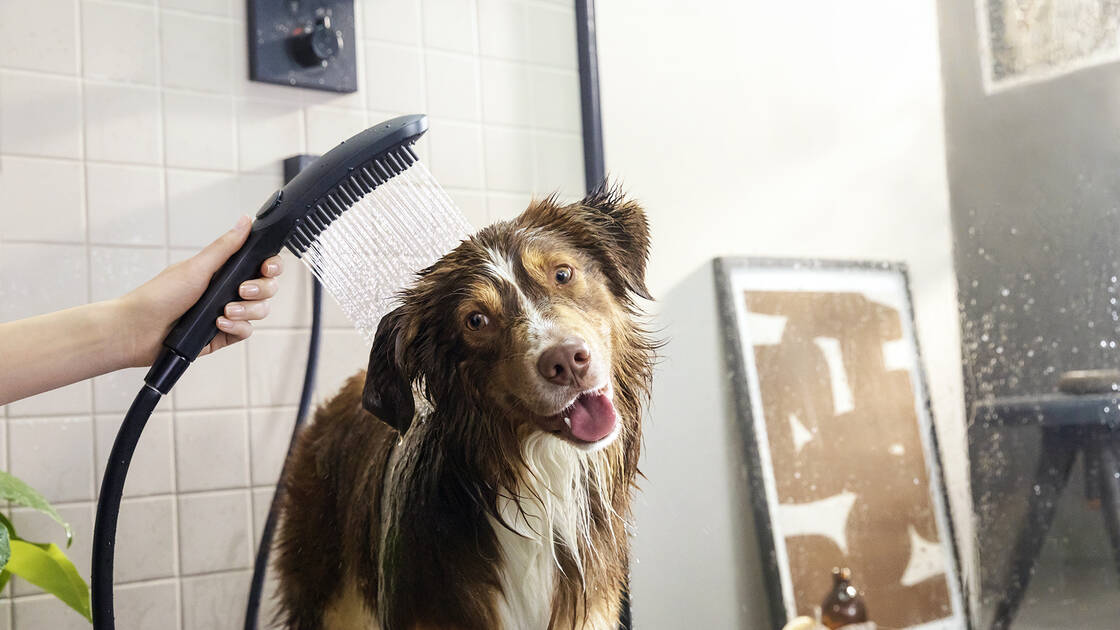 Looking for an easy solution for at-home dog grooming, without the fuss? 
Today we'd like to highlight an amazing new product from Hansgrohe: the HG DogShower. 
The Best Shower Head for Home Dog Grooming 
The Hansgrohe DogShower is an amazing new product designed specifically to help you clean your furry friends quickly and easily.
Developed in collaboration with dog experts and dog psychologists, it's an amazing step forward in the world of home dog grooming. 
What makes it so great? 
Relaxing - the head produces a gentle and quiet stream of water that massages your pet as it cleans - removing the stress from the grooming process.

Adjustable - just like the Hansgrohe heads for humans - the showerhead is easily adjustable between three jet types with the flick of a switch. 

Efficiency - outputs up to 9 litres per minute to make your grooms faster. 

Ergonomics - designed specifically to adhere to the shape of your dog's body for the best clean - and your hand for added comfort. 

Convenience - easily swap in and out with your regular showerheads using the same connection as your regular Hansgrohe showerhead. 
The Benefits of Home Dog Grooming using the Hansgrohe DogShower 
Saving on Time and Costs 
The biggest benefit of investing in an at-home dog shower head, like the Hansgrohe DogShower, is that you can cut down on the cost and inconvenience of going to the groomers by handling it yourself. 
Routine grooming, like bathing your dog after a particularly messy day in the park, is a great way to cut down on the frequency you need to visit the groomer - even if you still need to take them in for special appointments like deshedding or breed-specific grooming. 
Bonding With Your Pet
It's also another amazing bonding opportunity for you and your pet. Guiding them through a stressful situation, like taking a bath, is a great opportunity to build trust with your dog. 
It helps reinforce the message that even in scary situations, you have their best interests at heart. With the Hansgrohe DogBath, this becomes even easier - with its head that gently massages your pet as it cleans. 
Keeping a Clean Home 
As the saying goes, prevention is better than cure. Especially if you have a particularly active or heavy shedding dog, regular bathing at home can pay dividends in keeping your home clean. 
After all, spending half an hour bathing your dog is much easier than spending many hours vacuuming up hair from the couches, or mopping up muddy paw-prints. 
Keeping on Top of Your Dog's Health 
Regularly bathing your dog gives you a chance to inspect them for health issues that you may otherwise overlook.
Tics, fleas, ear infections and much more often go unnoticed until it's too late - because we so seldom have a chance to sit down and check our furry friends for them. Bath time is also a perfect opportunity to quickly check your dog for common health issues - letting you nip them in the bud before they spiral out of control. 
Where to Buy the Hansgrohe DogShower Online
Looking to invest in the best at-home grooming solution for your pet? Well, good news!
We have the Hansgrohe DogShower head in stock right now, here on the Bella Bathrooms website. 
Shop this and much, much more on our online store - or contact us for any advice on designing your perfect bathroom.