Using Tiles to Make a Bathroom Look Bigger: Our Tips and Tricks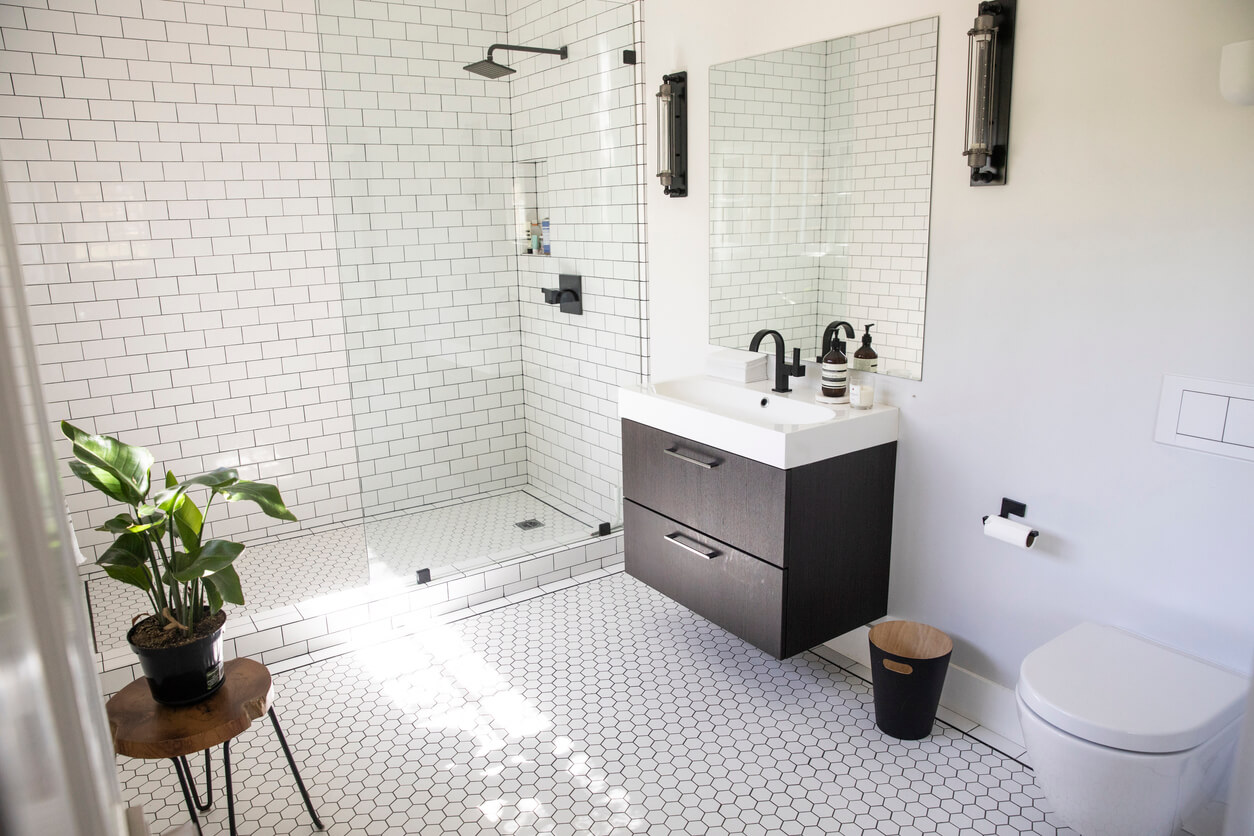 The Bella Bathrooms team takes helping you to get the most out of your home space very seriously. So much so that we've written an entire article with tips and tricks you can use to make your bathroom look bigger than it actually is right here. Your tile design makes more of a difference than just representing the overall feel of the room. It can help to amplify any small area, in a bid to make you feel at ease and comfortable whenever you find yourself entering it. If you're renovating your bathroom, make sure you're covering your bases in order to maximise every bit of space you're working with. 
South African Bathrooms
In older South African houses, it's fairly common to find the bathrooms smaller than you might imagine they would be. This has a lot to do with how architecture has changed over the years. People who live in apartments will almost always have to deal with smaller bathroom sizes, as communal areas like living rooms and open-plan kitchens tend to get preference in terms of size. If you're building a new house or apartment from scratch, you may be considering cutting a few corners on the bathrooms. If this is the case, getting the tiles right should be a top priority. 
Tip #1: Always Go With Larger Tiles
The biggest misconception about designing for a smaller space is that you're meant to go with smaller tiles. This is an easy way to make the room look as small as it is, particularly because the additional dividing lines create this effect. By going with larger tiles, you're going to be buying less than you imagine, and will be creating a less cluttered space without even having to do anything too fancy to get there. Always make sure that you're clear about your measurements before you commit to bulk buying a batch of tiles. 
Tip #2: Plain-Coloured Tiles For the Win
The next thing to keep in mind when it comes to making your bathroom look bigger is the colour of the tiles. Plain-coloured or all-white tiles will help to do the trick, especially if you're looking to create a natural base that is easy to pair with other colour combinations in terms of accessories and fittings. Light will bounce off the walls with ease too, which will make the space feel instantly bigger. Try to avoid making the space too clinical by appropriately introducing other colours through towels, bathmats and so on. 
Tip #3: Stick to a Horizontal Floor Tile Pattern
A final tip to use when trying to maximise the bathroom space is to stick to a horizontal floor tile pattern. This will help to widen the space and reduce the typically cramped look that smaller bathrooms in South Africa tend to have. A horizontal pattern can be designed relatively easily with the right tiles, especially when choosing larger tiles, like we suggested earlier. By being mindful of the tips we've shared today, you'll have the perfect bathroom space in no time at all.